Break Up / Make Up - Fire & Ice
00032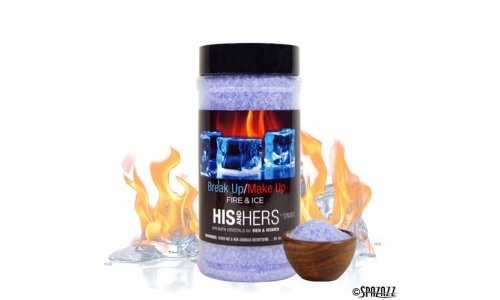 SPAZAZZ HIS & HERS BREAK UP - MAKE UP FIRE & ICE Summary
Hot one minute and cold the next! Fire and ice! The best part of breaking up is making up! This is passion at its best. It doesn't get any hotter than this! That's exactly how we made Break Up - Make Up! We heated this baby up and turned it loose! Be careful. It may be too hot to handle!


"Rock n the Duo" You come on like a flame. Then you turn a cold shoulder. Its not so pretty fading away. But its all just an illusion of this passion play. Lets go make up..."


Additional Information:

17 ounces / 482 grams
All natural ingredients
Spa Safe & Oil Free
Anti-inflammatory
Stress Reliever
Ingredients: Magnesium Sulfate, Maltodextrin, Fragrance (Parfum), Aloe Barbadensis Leaf Juice, Sodium Borate, Natural Coloring ... and a few trade secrets.



For External Use Only. Do Not Store In Direct Sunlight.