Insta 4in1 test
4IN1TESTSTRIP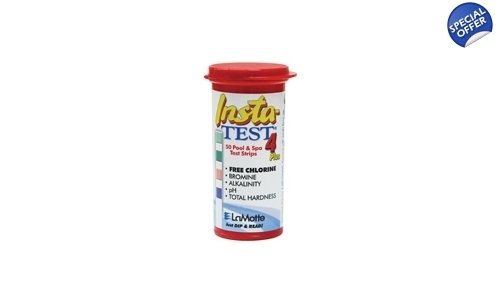 Insta Test 4 in 1 Test Strips 50 strips Summary
Insta-Test 4 Way
Pool & Spa Test Strips
(Pack of 50 Strips)
The Insta-TEST Pool 4 Plus strip measures
Free Chlorine 0-10 ppm,
Total Alkalinity 0-240 ppm,
pH 6.2-9.0
Cyanuric Acid (Stabilizer) 0-250 ppm.
This test strip is a dip-n-read strip with instant results. The Insta-TEST Pool 4 Plus strip is the ideal pool strip allowing the user to measure the most important test factors. The test strips are packaged in a waterproof yellow PopTop bottle with a molded desiccant liner, which protects the strips from moisture and UV light.
Bulk Buying Options
single
£12.00
2 up to 4
£9.60
per item
5 up to 10
£8.40
per item