Maintenance Kits
00007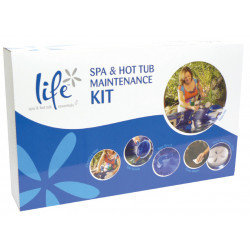 This kit is the ultimate spa and hot tub cleaning kit that includes all the basics to keep your spa in tip-top condition.
Spa and hot tub maintenance kit includes:
Supa-vac underwater vacuum.
Venturi pump attachment (for emptying)
Filter sock (to collect debris)
Filter sock retaining clip.
2.5m drainage hose (for emptying)
1.2m telescopic hose (3 sections)
Snap fit garden hose connection.
Cleaning mitt.
Spa scoop.
Spa brush.
Cover wipes.
Scum absorbing disc.
Detailed instructions enclosed.
The performance of the Supa-vac is dependant on adequate water pressure being available. Normal town water pressure is sufficient.