Work It In / Sweat It Out
00057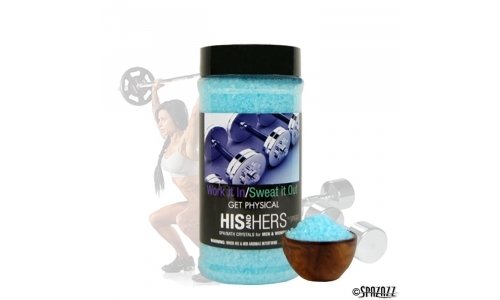 SPAZAZZ HIS & HERS WORK IT IN - SWEAT IT OUT LET'S GET PHYSICAL Summary
Take that exhilarating feeling of working out and multiply it by a thousand! That's exactly how we made Work It In - Sweat It Out. Everyone loves that feeling you get after working out… getting physical. Now that it's time to relax, we have the perfect solution for you. Soak in an all natural formula designed for relaxing and letting loose.


"Rock n the Duo" Im saying all the things that I know youll like making good conversation. Ive got to handle you just right. You know what I mean. Weve been there before. Theres nothing left to talk about. Lets get physical.


Additional Information:

17 ounces / 482 grams
All natural ingredients
Spa Safe & Oil Free
Anti-inflammatory
Stress Reliever
Ingredients: Magnesium Sulfate, Maltodextrin, Fragrance (Parfum), Aloe Barbadensis Leaf Juice, Sodium Borate, Natural Coloring ... and a few trade secrets.



For External Use Only. Do Not Store In Direct Sunlight.